A holiday season is never too far away. There are plenty of festivals, celebrations and anniversaries throughout the year including Valentine's Day, Chinese New Year, Christmas and Easter. Learn how to best promote social media for the holidays.
Launching a social media #socialmedia campaign #campaign to tie in with a holiday is an excellent way to engage followers, increase your audience and promote products and services. It can tap into the popular mood and provide people with fun experiences.
Getting Social During Holidays
There are many examples of companies getting into the public holiday spirit with smart, creative and successful campaigns.
In the lead up to Christmas 2013, retail company Target created a hashtag – #MyKindOfHoliday – so that followers could share thoughts on how they planned to spend their holiday. Not only did this allow consumers to connect with the brand, but also with each other.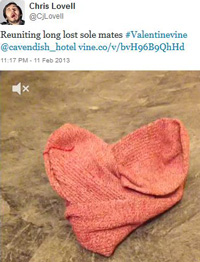 To relate to Valentine's Day, the Cavendish Hotel in London asked followers to create their best #ValentineVine video. The winning entry – "Reuniting long lost sole mates" – picked up an overnight stay for two at the hotel.
The Chinese New Year is one of the biggest reasons for a party in the Asia-Pacific region, and many forward-thinking companies launch social media campaigns during the celebrations.
This year, several businesses organized campaigns that invited their followers to share their resolutions for the Year of the Horse and to send goodwill messages to their families and friends. Some, such as the Swiss luxury watch manufacturer Rado offered prizes as an incentive to take part.
In January 2014, British Airways launched its first WeChat campaign to promote its presence on the social networking app. The campaign was designed to attract BA's more than 350,000 Sina Weibo followers to its WeChat account.
The airline delivered 2,014 custom-made red envelopes to its first 2,014 WeChat followers. Each one contained a greeting and a discount coupon. There were also three gold-coloured red envelopes containing roundtrip plane tickets for travel between China and London.
How You Can Go Social During the Holidays
Any company, no matter their size or industry can embark on a holiday-themed social media campaign. Here is some further food for thought about how you can get social during the holidays:
Engage with your audience – this is both simple and effective. Ask your audience to share their experiences about the particular holiday you are celebrating. For example, you could ask: "What's the most romantic present you ever received on Valentine's Day?"/"What was your worst ever Christmas present?"/"If money was no object where would you spend your next vacation?"
Questions and engagement add a personal touch and can even prompt your network to respond to each other's comments and experiences. A responsive community is social media dynamite, giving followers another reason to look forward to seeing you in their newsfeeds. And don't forget to respond and chip in with your comments. Just asking questions is not enough.
Encourage sharing – get your followers to send in their holiday-themed photos and videos. They can share and tweet photos of their Valentine's meals, holiday resorts, New Year's Eve parties and decorated Christmas trees.
Give away some free gifts – don't be a Scrooge come Christmas time, give your loyal followers some festive cheer with some free goodies. They do not have to be expensive presents. Discount vouchers always come in handy.
Promote holiday pins – help to ensure your brand stands out from the crowd by using promoted pins on Pinterest. Include embedded links to your website to increase traffic. You can also create themes and ask your audience to pin relevant pictures. For example, "Delicious Christmas Cake Recipes" and "Tips to Creating the Best New Year's Eve Party".
Host a holiday-themed competition – add to the holiday fun with a competition that gets your crowd talking.
Highlight your holiday celebrations – post pictures about what your staff members are getting up to during a holiday period. Are they dressing up for Halloween or taking presents to a children's home at Christmas? Let your company's personality shine through. But remember, no pictures of drunken antics at the office Christmas party.
The Holidays are Coming
Use these social media tips to get your business noticed and talked about, and pick up inspiration from other companies. Then grab a red pen, circle some key dates on the calendar and get planning.