Social media #socialmedia in Australia is in rude health, an established presence in personal and social lives, with Australians being among the highest social media users worldwide.
For every hour that an Australian spends surfing the net, 14 minutes are spent on social sites, with nine of those devoted to entertainment and four to shopping. That's according to a report by digital analytics company Experian. Social Media in Australia has has greatly been increasing over the last few years.
Facebook #Facebook is still the social media titan with 13 million users in Australia. Figures released by the social networking company reveal that 9 million Australians use the site every day, including 7.3 million who log in via mobile.
Evidence of the popularity of image sharing in social media is seen by the presence of several video and picture sharing sites in the country's top 12 social networks. These figures are provided by SocialMediaNews.com.au and Vivid Social Research Division and were correct as of February 28 2014:
Facebook – 13,000,000 users (according to Ad tool)
YouTube – 12,500,000
WordPress.com – 6,350,000
Tumblr – 4,800,000
LinkedIn – 3,700,000
Blogspot – 3,000,000
Twitter – 2,500,000 Active Australian Users
Instagram – 1,600,000 Active Australian Users
TripAdvisor – 1,300,000
Snapchat – 1,070,000 Active Australian Users
Flickr – 800,000
Pinterest – 420,000
The figures present the number of Unique Australian Visitors – UAVs – to that website over the monthly period, unless stated otherwise.
Brand Engagement
Research is also demonstrating just how many Australian consumers are now engaging with brands #brands via social media.
A study by Aegis Media's The Social Hatch and Latitude reveals that 82% of Australian social media users connect with brands via social networks, and nearly a third of them reach out to more than 10 brands.
However, before the business #business community lets off the fireworks and books that two-week holiday in Tahiti, there's bad news as well. Nearly half (44%) of survey respondents have severed ties with a company's social network citing reasons such as bad brand behaviour and boring and too much content.
It's not enough for a company to be on social media, they have to get it right.
Social Media ROI
The rewards include increased visibility at low cost and establishing and building trust with consumers. Ultimately these can lead to a bigger bottom line. Getting hard and fast data on social media ROI #ROI is difficult and many companies don't produce their figures, or indeed don't know how to measure and analyse them.
However, a global report by Hubspot of 3,300 participants from 128 different countries- including CEOs and marketers – found the ROI is significant. Among the standout figures are that  lead conversion rates are 13% higher than the average lead conversion rate.
They are also higher than the lead rate from such traditional means as trade shows and direct mail. The report is available for free here.
Successful Campaigns
Since the beginning of 2014, Australian companies have reaped the benefits from launching well-run and attractive campaigns #campaigns. They have grabbed the attention of fans and followers and increased engagement.
Perth-based private health insurance company HBF ran a campaign focused on the Twitter hashtag #TakeOn2014. Followers were encouraged to tweet out their fitness goals for the year and in return would receive some fitness goodies.
Not only did this become the company's top hashtag, but it achieved a follower growth rate of 13.1% which represented a fivefold increase on the sector average of 2.6%.
When McDonald's Australia launched a YouTube video to announce the reintroduction of the McOz burger, it quickly garnered more than 400,000 views.
Before and during the Chinese New Year celebrations Cathay Pacific Australia operated a social media campaign involving promotions, deals and giveaways. Consequently, engagement with fans soar.
Social media benchmarking company Unmetric analyses social media engagement and gives it a score of between 1 and 1,000 based on the number of likes, comments, shares and the company's size. Cathay Pacific Australia received an average engagement score of 994, while the sector average was 548.
Social Media Trends

Unquestionably social media is an integral part of the business landscape and increasingly the way consumers receive information, seek out entertainment and stay in touch with their favourite brands.
The social world is continuously evolving and dozens of new trends #trends come and go all the time, while a handful stick around and become part of the furniture.
Several trends have been bubbling under the surface for some time and are now enjoying, or will soon be enjoying explosive growth and take up. A report by Kamber, a specialist content #content marketing and social media agency draws attention to a number of important social media trends for 2014.
Among them is the importance of original and meaningful content, and an increase spend on content creation and content promotion. Great material doesn't always get the visibility expected of it so more effort and money will be spent on pushing it out to the right audience.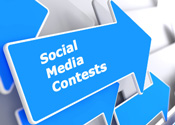 An increase in the number of social media contests #contests will also take place in 2014. They offer quick engagement wins that generate a lot of buzz, and it's never been easier for consumers to participate via such services as Instagram, Vine videos, Twitter and Facebook.
The trick as always with contests is to come up with ways of maintaining engagement levels or keeping a good percentage of new followers once the contest has closed.
Going Mobile
One of the biggest changes on the digital #digital landscape is the way that media consumption habits have evolved. In Australia as elsewhere in the world TV is turning from a single channel experience to a multichannel encounter.
People are watching TV and surfing online at the same time and they are doing so via tablets, mobile phones and notebooks. Mobile social media use is in the ascendant as time-pressed users can play, watch, buy and share quickly and without hassle.
As mobile engagement rates explode, these devices look set to take over as the first screen with TV moving more into the background. To satisfy audience appetite, mobile video will increase and take up a bigger chunk of the marketing pie.
Thanks to services such as Vine and Instagram, more brands are experimenting with shooting their own videos. Throughout 2014 these will be better integrated into fully rounded marketing  #marketing campaigns.
It's also going to be a massive year for social video advertising #advertising. Toward the end of 2013 Facebook launched its video advertising service that will automatically play videos in a user's newsfeed.
Reap the Rewards
Australians have embraced social media big time and all the research and anecdotal evidence suggests that consumer-facing companies can enjoy great rewards #rewards by planning and executing strategies that capture the imagination of the audience.