Social media #socialmedia continues to redefine the way the business world markets to consumers. Companies no longer have control over their message as marketing now takes place in a demographic environment where power has shifted to the customer. Here are some social media success stories that you can learn from.
"Traditional marketing is changing dramatically," says Howard Schultz, CEO and Chairman of Starbucks, one of the world's most engaged online brands. "You can't tell people anymore, you can't push people. You've got to go and engage them in a conversation and they have to trust the source."
Smart business leaders are adapting to this model using Twitter, Facebook, YouTube and other channels to forge deeper relationships with their consumers in cost-effective ways. They are convinced that social media can deliver a significant monetary ROI #ROI on time.
Although a financial return doesn't necessarily reveal all about the true value #value of social media for an organization, executives need to put figures on their digital endeavours.
In the last few years many notable stories have emerged of companies increasing sales and market share through social media. Here are three examples from the Asia Pacific region:
Nestlé BenNaNa Ice Cream

In the summer of 2012, the multinational food and beverage company Nestlé launched a new ice cream product into China called BenNaNa. This innovative ice cream stick has a yellow peelable jelly shell which is rolled down before eating, similar to the experience of eating a real banana.
To generate a buzz about the sweet treat the company launched a two-part highly interactive digital campaign. Nestlé set up an account on the hugely popular Sina Weibo microblogging platform and posted funny videos for users to share.
Consumers were also encouraged to upload their own BenNaNa pictures and swap stories, jokes and experiences. The company also created a microsite with a magical island theme that featured BenNaNa and the tricks that could be played with it.
This linked to a Sina Weibo site populated by user generated videos and a series of amusing hashtags focused on such banana-related topics as peeling, playing and eating the fruit. For example, #EatingABananaWithoutSpittingOutTheSkin.
Top Banana

The results were phenomenal. Within three months of the campaign's launch BenNaNa became Nestlé's top selling ice cream product, achieving 150% of its full 2012 sales forecast.
It was the number one trending topic on Sina Weibo two weeks after launch and featured seven times in Weibo's top ten searches in China. Overall, 10 million visitors submitted 4.6 million posts. This was the kind of response normally only achieved by major celebrities and it created some very happy Nestlé executives.
Dettol Spray
This is a powerful example of how one company used social media not only to increase sales, but also to create a brand new product. In 2011, disinfectant brand Dettol was looking to increase its market share in China.
In the country's largest cities Dettol was the market leader in its category, but penetration was low in smaller cities where 80% of the urban population lives. For example, in Nanjing fewer than 10% of households had made a Dettol purchase in the previous twelve months.
The hygiene product is manufactured by Reckitt Benckiser and the British multinational wanted to increase its profile without having to invest in a major advertising campaign.
After visiting homes, reading existing research and studying online consumer comments, Reckitt Benckiser discovered that Dettol is mainly used for floor cleaning in China and is typically kept under the kitchen sink. Yet the product is a powerful disinfectant that can kill germs anywhere.
Following this audience research the company created a US 25 cent 'use anywhere' spray bottle. Then they recruited 4,000 mums with a strong social media influence to promote the product, sending each one a kit with sample sprays to share. The company's marketers believe the most powerful way to sell products and ideas is from consumer to consumer not brand to consumer.
The audience response was extremely positive and fifty thousand more bottles were distributed to more mums. And a website was created where recipients could vote on whether the bottle should be launched as a permanent product. A staggering 98% voted yes.
Social Media Campaign Cleans Up
Overall, the results of this social promotional push were astonishing. Purchase intent during the campaign period doubled, and sales of Dettol products in Nanjing where the initiative was held grew by more than 80% compared with the pre-campaign average. And all of this was achieved at a fraction of the cost of using traditional media.
Oreo Cookies
To celebrate its 100th anniversary Oreo cookies launched a year-long campaign in Malaysia involving real-world activities such as hot air balloon rides as well as an extensive reach out on social media.
The "Daily Twist" campaign was promoted across Facebook, Twitter and Pinterest and consisted of creative portraits of key events in Malaysia such as Independence Day and Malaysia Day. They were crafted from milk, cookies, straws and empty glasses.
Savouring Social Media Success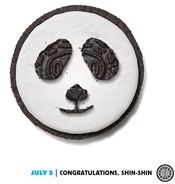 The whimsical images drew a huge response from social media followers with thousands of people sharing and commenting on the creative pictures. According to AC Nielsen retail audit data, sales of Oreo in Peninsular Malaysia grew 9.8% from October 2011 to September 2012.
Facebook fans grew nearly 30% from January until September 2012 without any traditional media support. In terms of positive PR the brand saw returns at least four times higher than the previous year.
Big Wins
Many companies are winning big in social media because they are continuously and actively engaging their followers, and thinking of creative ways to make the consumer experience more enjoyable.