Many of this week's social media campaigns have one thing in common – image sharing. From food to hotel industries companies have launched numerous social media marketing campaigns asking followers to send in photographs and videos. It is a strong recognition of the power of images to generate massive social media engagement.
With the ubiquity and sophistication of phones and other mobile devices, it has never been easier for consumers to take and share great visuals. And they can be uploaded to social networks in a matter of seconds. Here are some of the new campaigns that caught our eye this week:
Free Stays at Hilton Hotels
Images and the travel and leisure industry dovetail perfectly, and many forward-thinking brands are now turning to their consumers to share their experiences on social media. In return, they are offering a number of sweet inducements such as more holidays.
International hotel chain Hilton is offering free stays at its properties as part of a new social media initiative. It is the latest phase of Hilton's 'Our Stage. Your Story' marketing campaign that is ramping up the company's social media engagement levels.
Followers can win a two-night stay at any of its properties around the world. The prize will be awarded every week until the end of October. All fans have to do to be in with a chance of winning is share an image from their own travels using the hashtag #HiltonStory and posting to Twitter, Facebook or Instagram.
"Travel is all about finding new experiences, and #HiltonStory gives travellers the opportunity to share highlights of their adventures – and maybe earn the chance to make more great memories with Hilton," said Hilton Worldwide vice president, full service brand marketing Nancy Deck.
As part of the social marketing campaign, Hilton will produce YouTube videos featuring some of the images.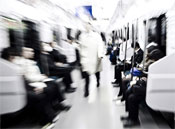 Be Nice to Your Fellow Commuters
If there's one thing guaranteed to raise the blood pressure, it's the grind of the daily commute. Bus and train delays, crowded carriages, road works and traffic jams all conspire to heap misery on millions of workers.
Small wonder then that tempers occasionally boil over or that people only think of themselves and ignore the needs of others when they are traveling. But a new poster and social media campaign in Singapore is hoping to change all that.
Singapore Land Transport Authority (SLTA) has launched a campaign to promote kindness and thoughtfulness amongst commuters. The new SLTA campaign is focused on videos featuring three characters, Move-in Martin, Stand-up Stacey and Give-way Glenda.
The exercise is aimed at bus and Mass Rapid Transport (the MRT) users who don't give up their seats for elderly or pregnant people or who don't let people off first when a train pulls into a station. You can view one of the videos here.
Photograph a Popular Campfire Treat
S'mores is a popular campfire sweet treat in the United States and Canada. In recognition of National S'mores Day on August 10, several state parks in Indiana will be offering people opportunities to win prizes through social media competitions.
The first social media marketing campaign asked this weekend's campers and picnickers to take a selfie with their S'mores snack and share them on the State Parks & Reservoirs Facebook page, using the hashtag #smoresINstateparks. The second social media campaign started on August 8 and runs until August 30 and is asking participants to photograph the confectionary snack at iconic features of Indiana State Parks and reservoirs.
"S'mores are a tradition for anyone who camps," said Ginger Murphy, deputy director for stewardship for the DNR Division of State Parks & Reservoirs. "Making them and eating them together around a campfire is one of those things families and friends long remember from their visits with us."
The campaign is a good and imaginative promotional exercise for both state parks and the S'mores brand.
Sour Faces Could Win Top Prizes
And we are staying with food for our next campaign. To promote Brain Blasterz, a sour confectionary range Bon Bon Buddies has launched a social media campaign #sourfaceselfie across several networks including Facebook, Instagram and Twitter. Followers are being asked to share photos and/or videos of their "sour face".
The best ones will receive prizes such as iTunes vouchers and PlayStation 4 consoles. This interactive competition should receive a lot of eyeballs and submissions as it is downright entertaining and virtually guaranteed to give everyone a good laugh.
We could be going to Vegas, Baby!
The U.S. Potato Board is using social media to incentivize potato industry members. They could be in with a chance of winning a three-night trip to Las Vegas in November during the World Food Championships.
All they have to do is come up with the most effective use of the hashtag #TopTater on industry sites. Possible places where the hashtag can be used include in photographs of recipes and retail displays. Winners will serve as cooking competition judges and #TopTater ambassadors.
Social Media News
The Sky is the Limit
A brief look at one of the attention-grabbing social media news stories of the week.
Combining social media and skywriting is proving to be a hit for some outfits in the USA. Skywriting firm AirSign provides aerial advertising to organisations in the states, and as well as its traditional campaigns is now venturing into social media.
The company is doing this by getting people to photograph skywriting ads and then share them on social platforms. For example, it recently worked with USA Network and created a buzz in San Diego about #DigDeeper.
The hashtag promoted a new thriller that's going to be premiering on its network. The marketing campaign featured a scavenger hunt at Comic Con with clues being hidden in retail shops, wall stencils and skywriting. Consequently, the hashtag experienced a colossal spike during the Comic Con event.
"There's never been a way to supercharge a social media campaign like this," Patrick Walsh founder of AirSign told Businessweek. "It's a great way to stand out above all of the clutter and competition."
From MavSocial | Complete Visual Content Management & Social Publishing Software