A fun and fascinating mixed bag of new social media campaigns were launched during the last week. Users were given the opportunity to crush cars via the internet, bring back a TV favourite and take part in what could be the next social media viral success. At the heart of these new campaigns are interactivity and engagement.
In the news section, we see how phone cameras and social can attract more visitors to public events.
Campaign Invites Social Media Users to Crush Cars
Last week, the price comparison website MoneySuperMarket launched a wildly innovative two-day social media campaign to get consumers thinking about car insurance quotes.
'The Car Insurance Epic Car Crusher' wanted people to focus on 'crushing' insurance quotes, and to get them in the right frame of mind, they were offered the chance to crush a real car with a robotic hand. The 6,000-kilogram hand was controlled via MoneySuperMarket's Facebook page and once selected, winners could control the hand using on-screen controls.
David Harling, head of digital at MoneySuperMarket, said: "We wanted to demonstrate in a very 'real' way just how powerful our price comparison site is in crushing car insurance quotes and this activity was the perfect fit, playing to every driver's secret desire to obliterate a car in true movie villain style."
If you want to see just what a giant robotic arm can do to a car, watch the above video.
Social Media Campaign to Bring Back Dallas

Fans of the revamped Dallas were dealt a body blow recently, when TNT announced that it was axing the series. But all may not be lost as a social media campaign is now up and running to try and save the cancelled program #RenewDallasTNT. The original Dallas TV show ran from 1978 to 1991 and for much of its history was one of the most popular TV programs in the world.
The all new TNT version came back in 2012 and featured some of the original stars including Patrick Duffy as Bobby Ewing, Larry Hagman as JR and Linda Gray as Sue Ellen. Hagman died during season two and ratings started to take a nosedive in season three. So now it is looking for a new TV home.
Among those supporting an online petition are cast members, including Duffy, who tweeted: "I for one am not done with Bobby Ewing! Let's see if some network wants the Ewings to live on! Love you all!!"
Wake Up Selfie – The New Ice Bucket Challenge?

Celebrities are flocking to a new social media campaign that organisers hope will become the next viral sensation in the same vein as the Ice Bucket Challenge. UNICEF's #wakeupcall aims to create awareness and raise money for Syrian refugees. Famous faces and members of the public are being encouraged to post an early-morning selfie on social media and to donate funds to the campaign.
Writing in the New Statesman, Jemima Khan, a UNICEF ambassador, said: "I considered asking friends to donate money not to have to attend another dreary charity dinner, but have decided that the quickest way to raise money is through a social media campaign – to try to replicate the astonishing success of the Ice Bucket Challenge."
Among the celebrities that have sent in their early-morning selfies are Stephen Fry, model Daisy Lowe, TV chef Nigella Lawson and Hugh Grant.
Social Campaign for Weather Fans

If you're ever trying to make small talk and are stuck for something to say, the weather is often a life saver. It's one of the most common topics of conversations worldwide, but if you want to fill those little chats with astonishing facts and titbits of information, the USA's National Weather Service may be able to help.
During the 'NWS Did You Know Week', the government department released a slew of facts on social networks about its history, areas of responsibility, operations and weather predictions. The campaign has just finished, but the fascinating tweets and Facebook posts can still be read via the hashtag #NWSDYK.
News
Catching up with some of the most interesting stories that have filled column inches during the last few days.
Flower Festival is Blooming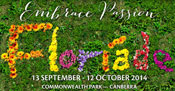 Canberra's annual flower festival, Floriade received a big social media marketing boost when visitors posted more than 5,000 Floriade-related tweets within a month. The festival opened on September 13 and closed on October 12, and during that time, visitors had access to free Wi-Fi allowing them to easily share pictures and posts to highlight the floral event.
In an interview with Australia's 7 News, social media expert Dr Stephen Dann explained how social networks are changing visitor experiences and helping to spread the word about destinations in the process.
Over the years the nature of events has been that if you brought professional equipment and you brought a high end video camera, the security team would be tapping you on the shoulder saying 'where's your permit, where's your permission?'.
"Whereas now with things like Twitter, and openly having a YouTube account, and openly having this Instagram account, it's encouraging people to come to these events with the good gear and be part of it."
The festival's online followers included 34,000 Facebook 'likers', 2,000 Twitter followers and 1000 followers son Instagram.
Office Space Take-up by Internet Firms in Asia

According to a report by property consultant Cushman & Wakefield, internet companies including Yahoo! Japan took up the most new office space in Asia in the second quarter, overtaking financial companies.
This expansion is primarily in Japan, China and Singapore and is driven by the growth in online shopping and social networking. Firms took up a combined total of 1.1 million square feet, that's about 22% of all office space.
A Cautionary Tale
Always double check autocorrect spelling before you send out tweets or status updates. One of the funniest trending stories of the last week was Naomi Campbell's congratulatory message to 17-year-old Nobel Peace Prize winner Malala Yousafzai. The supermodel sent a well-meaning note via Instagram that read: 'Congratulations malaria on your #noblepeaceprize #2014 #Respect #joy #ithalljuststarted.'
From MavSocial | Complete Visual Content Management & Social Publishing Software