As 2014 starts, it's time to take a look back at the leaps and bounds at which social media advanced. Let's take a look at some of the global trends that we've noticed in 2013 social media:
1. Facebook Has Competition
Facebook stills remains #1 in the global social media charts in terms of both membership and active usage, but it has some competition for 2014. The rise of China's social networks are noticeable, and many Western companies and celebrities have turned their attention to the Chinese market by creating accounts on Chinese microblogging sites. What will Facebook roll out to maintain its position at the top of the social media totem pole?
2. High Usage in Asia Pacific

The most notable trend by far is the extreme usage of social media in Asia Pacific, and given the population of countries in the Asia Pacific region, this shouldn't be a surprise. Jakarta, Indonesia is the social media capital of the world and the most tweets. Tokyo follows in second place.
In China, Facebook is still banned and true user numbers are unknown. Some estimate that Facebook users in China are as low as 950,000 to 65 million.
However, China's internet juggernaut Tencent (HKG: 0700) is on its way to the number 1 position. It's best known as the operator of QQ, a desktop messaging service, which counts 816 million monthly active users. The company's mobile messaging app, WeChat, now has 272 million monthly active users.
3. Social Media's Various Uses

Though the inception of some of our best-loved social media platforms was initially to connect friends, families, and networks, there have been some new and innovative uses for social media.
Twitter has been a realm of freedom for citizens of countries with strict governments, such as Saudi Arabia. According to this article from The Guardian, "Twitter helps us breathe" said the columnist Ahmed al-Najjar. "Digital media have also blurred the boundaries between what is permissible and what is not – though criticizing religion remains a clear red line."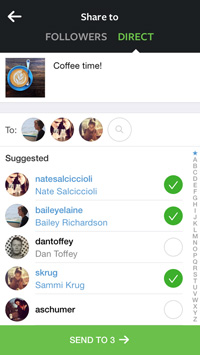 4. Social Media and the Marketplace
2013 was also a hot year for social media platforms to enter the stock market. Facebook recently joined the S&P 500 index, and Mark Zuckerberg is planning to sell 70 million shares that will earn him $1 billion. Twitter Inc listed and now has a stock market value of about $24 billion.
5. Direct Messaging and Photos
Snapchat is one of the newest social media app and it declined a $3 billion offer from Facebook and a $4 billion offer from Google. Instagram is following in its footsteps by introducing a new direct-messaging feature that will allow users to send private photos or messages to friends.
The new trend for direct messaging signifies the intimate nature of social media, and that despite its ever-expanding network, personal interactions are still highly valued by 2013 social media users.
That's why your social engagement is still necessary!
By the MavSocial Team – Social Media Marketing Software