The heady days of the mid 2000's, when brands first started to get serious about #Facebook marketing, could be considered the Wild West. From confusion on Facebook rules, to suspicious third-party Apps, there was a fly-by-your-seat style of social media marketing that made this an exciting time to live through as a marketer. Here are some ways Petsmart got the holiday social media done right.
One might say the last few years have been a golden age of social media marketing. The rules for brands on social media, while still ever changing, are beginning to solidify.
On another front, brand marketers absolutely love holidays and events that they can align their brand with. One of our favorites is the Christmas holiday, which kicked into gear right after the United States Thanksgiving period which is in late November.  Over the past few weeks leading up to the holidays, we have showcased some of our favorite brands that have used excellent holiday  social media over these last few years.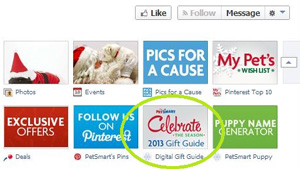 The holiday gift guide has been a staple for larger companies for many years. Either they print their own or they harass print editors to be included in one. PetSmart, the pet juggernaut, did it their way. On Facebook, #Petsmart have a special Tab called "Digital Gift Guide". Notice that the image has their holiday branding message of "Celebrate The Season".
Once inside the App there is a nifty geo-locating tool that asks you to enter a postal zip code:

After entering your zip code you are sent directly to your digital gift guide customized for your closest store.
This is Holiday Social Media done very right! What we love about this is that it takes a page from the old world of the Holiday Gift Guide, but makes it as seamless as the discerning social media customer demands of a brand with over 1,000 retail stores. You can see more of PetSmart's great holiday offerings here.
-The MavSocial Social Media Team