Social media may well be ablaze with tweets and text talk and abbreviations such as LOL, CUL8R and IMHO*, but it is pictures and videos that are making the greatest impact. Learn to engage followers with entertaining videos.
Whether you are a B2B or B2C company the fundamentals are the same: social media is about engaging and connecting with people, and videos are among the most powerful ways to achieve these aims.
The online video world is growing. An October 2013 report by Pew Internet Research revealed that 78% of internet users download or watch online videos, up from 69% in 2009.
What's more, 57% of online adults watch videos on social media. The appeal isn't just felt by the ordinary public as business executives are also getting in on the act.
According to a Forbes Insight report 75% of executives surveyed watch work-related videos on business-related websites at least weekly and 52% watch work-related videos on YouTube at least weekly.
It is widely expected that video will soon become the dominant form of traffic on the internet and a widely used technique to engage followers.
Increase ROI
Videos allow companies to get their messages across in an easy and quick way.
They cut through all the digital noise to generate positive world of mouth that can ultimately lead to more sales. Just ask the National Australia Bank (NAB).
In 2011 when NAB announced a split from other banking conglomerates including Westpac and CommBank, the financial institution wanted to change its perception among customers and secure more businesses.
NAB launched a series of videos on social media sites. The theme was relationship break up and it started with a tweet that many people thought had been accidentally sent by an employee.
It read: "Sooooo stressed out. Have to make a tough decision and know I'll probably hurt someone's feelings."
The tweet wasn't an accident, but the beginning of a brilliantly orchestrated and executed social media marketing campaign.
This included 60 videos posted on YouTube of NAB employees breaking up with other bankers around the country and a "Dear John letter"
The ROI was substantial. There was a 79% increase in home loan inquiries, a 50% increase in credit card applications and a 20% increase in new accounts.
An additional bonus was waiting in the wings as the campaign won the Cannes Lion 2011 award for the Best Use of Media Relations.
And Action!
Your audience doesn't have a lot of time so you need to grab their attention quickly.
So turn down the lights, find a comfortable chair and crack open the popcorn, here are a number of effective ways to use video within your social media marketing:
Go behind the scenes – pull back the curtain and take your followers inside your office or facility to let them know more about you. This has to be some place they wouldn't ordinarily have access to.
It's a great way for new clients to get to meet you, and it makes them feel safe to do business with your company.
How-to videos – answer the biggest questions your consumers have about your products. Create short how-to tutorials based around frequently asked questions.
Film interviews – reach out to key people in your industry and film short interviews on topics related to what you do and that will be of interest to your audience. You could also interview your staff about what they do.
Publish testimonials – telling the world that you are the best is boastful and a turn off. Get a third party to sing your praises and it becomes fact.
Ask some of your loyal customers to say some warm words about you. Perhaps you could also film fascinating case studies.
Your audience will better identify with 'real' people. A consumer who is passionate about what you do is a powerful brand advocate. Passion is infectious.
Product insights – show off the best features of some of your products and services or create a teaser for a new product.
For example, Fasig-Tipton is North America's oldest Thoroughbred horse auction company.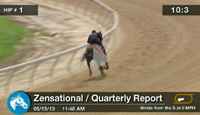 It hosts 13 auctions annually in diverse locations and uses video to provide prospective buyers with visual information about its horses and also to live stream the auctions.
Fasig-Tipton uses a video platform that hosts the videos, publishes them to YouTube and sends links via Facebook and Twitter.
This generates a far higher audience than the previous approach of filming the animals and sending out videos and DVDs to interested parties.
Preview an event – if you are attending a webinar or conference or giving a keynote, shoot a small snippet to show people what they can expect from you.
Broadcast to the world – once you have created your video you need to get it to your audience who will consume it on a multiple devices.
Use a content management system that can organize your videos, publish them on your site and syndicate them to others to further engage followers.
Emotional Connection
Videos allow customers to see the action taking place before their eyes rather than reading a few paragraphs about it.
When you show your story you create a much stronger emotional connection than words can ever manage.
*Quick guide to text speak: LOL=Laugh Out Loud, CUL8r= See You Later and IMHO=In My Humble/Honest Opinion.
MavSocial is a content management, planning and scheduling platform that helps companies of all sizes to execute comprehensive social media campaigns across all platforms and web-based devices.