Despite social media's prominence in our personal and professional lives and its importance as a sales and marketing tool, voices within the hospitality industry continue to question its relevance wondering how they will benefit from social media elements. Learn how Starwood Hotels made $2m from facebook.
What's driving their concerns is a desire to see some hard and fast facts and figures, that any effort they put in will be paid back in bucket and spade fulls.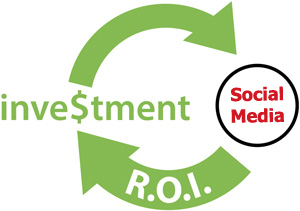 They are echoing the concerns of many companies that are either considering or actively engaged in social media. The $64 million question that everybody's asking is – what is the ROI of social media?
Firms can see how their information is being shared and posts talked about, but sitting away in their offices nervously punching their calculators are the bean counters who want to see some lucre rolling in.
More Profits
Evidence that social media activities are starting to boost the bottom line are out there and hoteliers are among those making some big bucks. One of those is Starwood, an American hotel and leisure company that owns brands such as Westin, Sheraton, W Hotel and The Luxury Collection.
The megabrand has been active across numerous social networks for a number of years including Twitter and Facebook. Back in 2011, Justin Holmerud, a Starwood executive told a conference of hoteliers that nearly four out of 10 people (36%) who follow a hotel on Facebook and Twitter buy more from that particular hotel or chain. This was a percentage he wanted to see increased.
"Only 36% buy more after they become a fan," Holmerud said. "These are the people who follow you. They read your Facebook posts. They get your e-mails. They read your tweets, but they don't go further than that. They don't engage with you on any level."
So he exhorted his audience to go even further to turn engaged followers into advocates. He obviously followed his own advice because as of 1 October 2013 Starwood had made $2 million net in additional room sales from one fan page alone.
So How Did Starwood Do It?
Working with marketing company Brand Karma, Starwood created a Facebook fan page as a central hub to promote deals from its many brands. Within a few months it had attracted 250,000 fans by placing a few well targeted ads over the network.
To their delight the company executives found that on average Facebook fans spend seven to fourteen times more than non-fans and have become fans for the purpose of getting great deals.
Starwood's social media success was also built on the back of its previous efforts that had helped to increase visibility among social media users. One of its most successful engagement strategies was the scavenger hunts.
Users had to find a mystery hotel by unlocking clues on Facebook and Twitter. The winning location rotated daily. The first ten people to solve the puzzle and who approached the reception desk of the hotel with a pre-scripted line were awarded a prize such as free weekend stays.
Other strategies included the tried and tested, such as actively engaging with followers and quickly responding to comments and complaints.
It is powerful case studies such as this that are starting to convince some hoteliers that social media may be one of their greatest allies.
MavSocial is the leader in social media visual content management solutions. It allows marketers to easily upload, store, manage and publish text, videos and other rich media directly to Facebook, Twitter, LinkedIn, YouTube and Tumblr. So why not sign up for a free account now and see how MavSocial can help make your social media visual content marketing easier.
From MavSocial | Complete Social Media Visual Content Management & Publishing Software