Mainstream social media #socialmedia marketers are so concentrated on massive networks that they usually fail to take into account some other, more specific, but still very popular resources. We may assume that in most cases it happens simply due to laziness and fear before discovering new horizons, despite the fact that marketing activity on such resources can definitely bring profit.
However, marketing here must be totally humane and creative, without any hint to commercial need. Or, in other words, you must forget about advertising and instead focus on bringing high-quality content #content. One of these specific networks is Tumblr and you will learn some ways to promote through Tumblr.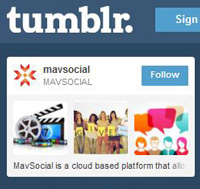 This microblogging platform was launched back in 2007, and it rapidly gained popularity on the internet. The main focus of Tumblr is its ability to combine the best features of a blogging #blogging system and social media. Due to this individual and defining aspect, the Tumblr community has already formed its own stable traditions.
Marketing on Tumblr is a hard task: you should be totally ready to adapt to local customs. So, if you are not afraid of confronting unfamiliar difficulties, the following tips #tips for promoting your brand on Tumblr are ready to get you in the know.
More Visual Less Verbose
This rule is actually one of the main principles for blogging. But Tumblr is not just a blog. It's also a social media platform, so you should pay even more attention to the way your content is perceived by users.
It's widely known that people on the internet love pictures, and the experience of the most successful tumbloggers demonstrates that pics are especially useful on Tumblr. If you want to be successful there, always remember that the visual and text content must be combined and balanced, so the post grabs the attention of your followers immediately.
Brevity
Once you have grabbed the reader's attention, the reader should understand what you're talking about. And the quicker this understanding comes, the greater the chances the post will receive likes and be reblogged.
Tumblr users value their personal time, and as such they don't strain themselves to find out what you want to tell them. So, your first mission is to make the distance between the idea and the user as brief as possible. Brevity is the main tool to achieve this.
If the Tumblr user wanted to read a lot, he or she would have bought a novel. But on Tumblr, users are looking for interesting content, not interesting words. The only conclusion here: put the idea into words laconically.
Social Media Integration
Though Tumblr is a huge social platform in itself, that doesn't mean it's enough for your brand promotion. Widen the borders of your tumblog and integrate with popular social media. Link your blog with Facebook, Twitter, and Google+ accounts, so followers can see that your brand is presented on other authoritative networks.
This will improve the face of your brand in users' eyes, but also will get your content some traffic on other social media sites via Tumblr. You should pay particular attention to integration with Instagram due to its popularity among the Tumblr audience.
A good practice for this is to link images in your post with your Instagram account. And lastly, add social media buttons to share your posts—because your content is high quality, this will give people an opportunity to promote your tumblog by themselves.
User-Friendly Design
Tumblr gives you the opportunity to choose or even design your own theme. In our case this means you should take full responsibility for the look of your blog. What do you need to do to make it look attractive?
First of all, watch web design trends #trends, see what styles are popular nowadays, check the themes of other successful tumblogs, and keep up with these standards. However, your blog must look original in order to stand out. Therefore it's important to develop your own style, considering the latest web design tendencies.
Hipster Humor
Finally, a few words about the style of the content. I'm sure you understand your content must be absolutely unique. Nevertheless, the originality must fit in with the general Tumblr atmosphere. If you look through the popular tumblogs, you will undoubtedly notice that most authors maintain a certain hipster–like style.
If we analyze this on a deeper level, in this case "hipster" means not only passion for vintage and trends, but also a specific ironical attitude toward the world. So, if you are unable to be youthful you're your humor, lay down your hope to make your brand successful on Tumblr.
These tips will help you to start marketing on Tumblr in a successful way. However, the word "marketing" is not so appropriate in characterizing the way your brand should communicate with your target audience.
Keep in mind that you will need to be just an author who regularly provides readers with good content. Once you accomplish this, the brand, which stands behind your back, will be promoted automatically.