This is the internet and social media age and mouse clicking fingers need instant gratification. Paragraphs of dense verbiage and statistics that read like the chairman's report are bypassed in favour of fresh, attractive and visually appealing material. Infographics for social media are a great way of improving your presence.
Today, businesses are more than just marketers, they are content publishers as well, and visual content is often appreciated more than lengthy columns of words. The amount of information we see on a daily basis is growing exponentially, with no signs of slowing down.
We need simpler, less time consuming ways of understanding a complex world and that's where infographics come in. Not only are they a visually appealing way of displaying data, but they're also superlative marketing tools to connect and communicate with customers.
Just ask MastersInIt.org. The online educational lead generation company created an infographic called 'Geeks vs Nerds' to build links to their website. It generated more than 3,000 posts on targeted websites, receiving more than 200 backlinks from them. There were also no fewer than 10,000 tweets, stumbles and Facebook shares about it.
Media company Bit Rebels revealed the impact of one of its infographic posts compared to a traditional social media post, and the results are startling:
Social Networks        Infographic                   Traditional Post           Difference
Facebook                                61 likes                                    69 likes                            -12%
Twitter                                    578 retweets                          62 retweets                       832%
Google+                                  9 + 1's                                      4 + 1's                                125%
LinkedIn                                 51 shares                                 7 shares                            629%
StumbleUpon                        330 page views                      39 page views                  746%
Pinterest                                 62 views                                  62 views                            0%
Creating an infographic for social media is one of the most exciting ways to present information and it can help you win new customers and motivate existing customers to buy more. Here's how:
Improves visibility – the internet is a crowded place and competition for followers is fierce. You need to have a presence on multiple platforms and be fully engaged with all your networks. An infographic is a good way to get yourself noticed. Bloggers love using third party infographics because they're receiving wonderful original content without spending the time or resources to create it themselves.
A lot of content on the web is run of the mill. A great infographic will get you noticed above the rest of the pack. Use Google Analytics to see how many unique views your infographic is generating on your website and how many people are finding it through keyword searches.
What's more, an infographic can be used many times. When you write an article it can only be used in one place online. Anymore and Google's algorithms will recognise it as duplicate content and push it down the search engine rankings. An infographic however can be repurposed and used in reports, worksheets, slideshares, advertisements and more.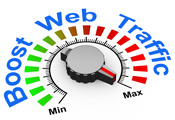 Increases traffic – one of the biggest words in social media marketing is viral, content that spreads round the internet like wildfire. Businesses need to create content (articles, videos, images, blogs and the like) that's not only informative and entertaining, but that people enjoy so much they feel compelled to share with their own followers and friends.
Your followers are more likely to share a well-designed infographic than an article or a list of stats as pictures are the most popular shared media on social networks. And infographics can be embedded which makes it easier for people to share.
Enhances your reputation – a well-presented infographic with accurate and relevant information will improve your standing as an expert in your field.
Boosts brand awareness – your logo and company name will be incorporated into every infographic you produce so that even if the content is not directly about your business, readers will know exactly where it has come from.
Provides better understanding of ROI – by including an embed code which contains a link back to the original host of the infographic, you are able to track how well it is doing. Google Analytics and Google Webmaster Tools measure how many sites are linking back to it.
What are You Waiting For?
Infographics are not a fad, they are here to stay and can drive a huge amount of traffic back to your blog, website or social media channel.
From MavSocial | Social Media Marketing Software for Business